Post by universalexports on Jun 30, 2011 22:08:01 GMT -5
well after pricing wings on line, ($350.00 +) and finding nothing local, I have decided to try and build myself a pair using the info, template, and annealing process available here,
www.freewebs.com/kc8jwa/wings.htm
only mine will be 3/4 inch thick since that's the widest aluminum strips I can get locally, and using some flashing that's 8 inches wide from Ace hardware.
and 3/4 inch pine boards that are already 8 inches wide ( I will coat the wood with resin or something still have to research whats best)
the wife has decided that we are going to Branson, MO Friday night through Sunday, so maybe I can get a little done tomorrow and Monday.
here is my parts I gathered today.
OK, UPDATE!
Well today so far I have used the template to cut my nose pieces
I measured center of wood my 4 foot by 8 inch board was actually 7.5 inches wide, but it will work, and I made them 35 inches long to compensate.
anyway I measured center of my board and lined up the line on the template to make sure my nose was not tilted up or down and centered.
then used tape to hold it in place and used a sharpie to mark the lines (not the best thing to use), the sharpie bleeds over a bit and does not leave a crisp sharp line, but it will work.
used a jig saw to cut the rough line (still need to sand it)
Walla!!! a nice nose
NEXT, I measured and used the measurements on the template to
get the right angle on the tail, (JUST MISSED THE KNOT)
Now I have 2 wings
after I use a sealer on the wood I am going to cover them with this, although I may look at getting some thicker, this stuff is paper thin.
UPDATE
well I built a cheap aluminum brake to put the fins in the wings, having issues, the brake works fine but when I got to roll out the wings to flatten them again (they curl up) I was getting small wrinkles. so I figured out very limited and soft straightening works best.
another issue is the aluminum trim I bought from the box store is way to thick to heat and bend, following other directions I read on annealing, I could not get the aluminum to turn red hot. it is probably 1/16th thick. I may have to break down and buy the pieces on line that are more suited for this
here is a pic of the new fined wings progress. my lines arent perfectly straight, in line with the edges, but it will work for a back wing piece.
UPDATE
Well using the annealing process that is in the above link, I have been trying to form my aluminum edging
it is a learning process,
I made a wing template out of a piece of meat cutting board I had laying around, as it is good and hard.
a few things I learned is the shape of the wing nose has steeper bends in certain areas, and because of this, once you get a fairly sharp bend in the channel, and try and do the next bend it will flex and bend more in the earlier bend (physics) its the weakest point in the channel now,
to fight this I used clams on the bent areas to hold them down on the mold and keep them from bucking up and flexing
THE PROCESS
I took the channel after heating it, and started bending it around the mold using a big clamp to keep it from moving, after you do this it will buckle in all the sharp bends,
then I would take it off the mold, heat the bends, and using a pair of vise grips with a thin piece of metal between the teeth on each side I would smash the buckled areas back down, it worked pretty good, but as you do this it will spread the molding apart as it tries to straighten out a bit, then you reclamp it rebend it and repeat the process 3-4 times.
here is a pic of the molding,
here is a pic of the molding with a buckle in it, and the pic under it is after I smashed it back down.
here it is with the buckle smashed down.
here is a pic of me smashing the buckle down
this is what I have now, getting close, I plan to sand the aluminum side down some for a smoother look once I get it done as the sides are 1/16 inch thick
thats all for now.
UPDATE
Well I smashed on the crimped up aluminum in the corners a bit more with the vise grip pliers, then hit the edges with some 90 grit sandpaper, then some 180 grit, to smooth it out, I still need to hit it with some finer stuff and polish it, but it is looking very good.
I have decided this piece will be my test piece, as it has some small issues I just think I can do better with the next time.
here are some pics of the curved bent aluminum.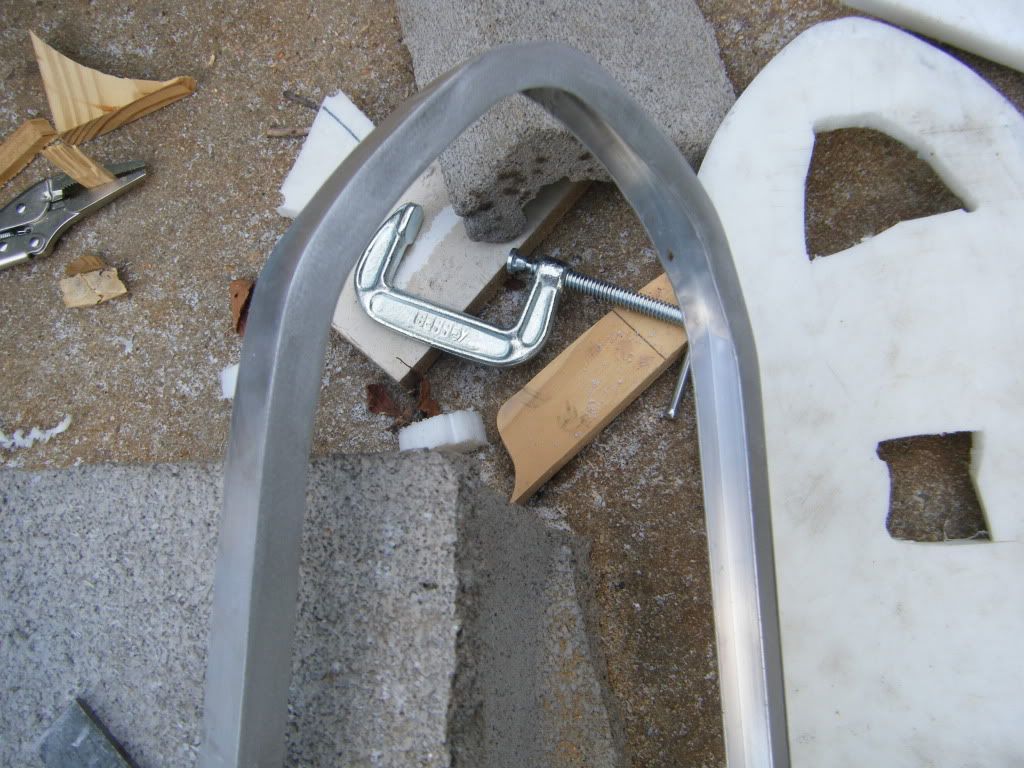 UPDATE
Well I got another piece of aluminum frame,
re bent it, I think I have about got the hang of it, it is important
to get small kinks in the nose all the way around and it really helps if the kinks are across each other,
to help with this use a couple of boards on each side as pictured in the above link, then bend the aluminum slowly and watch it, it it starts acting wrong stop, straighten it out a bit, I also used a big clamp with rubber feet to help with this.
this is what I have so far. the aluminum covering is just a test piece, it ended up with several small kinks, I gotta work on that as well.
any pointers/advise would be greatly appreciated.