Post by joek on May 7, 2010 1:25:43 GMT -5
Here is my experience building new baggage doors. My doors were in terrible shape, but the frames were okay, so I only needed to build the doors.
I started with an .040 aluminum sheet. I laid out the doors before heading over to my friends sheetmetal shop, in order to save time time
Then it was off to the sheetmetal shop for fabrication. We cut the pieces to size on the shear, trimmed out the corners with hand shears and dimpled the lines so we could see them from both sides.
Next we headed over to the brake. Slide the sheet into the brake to the first line. The face that is up will be the outside face of the door.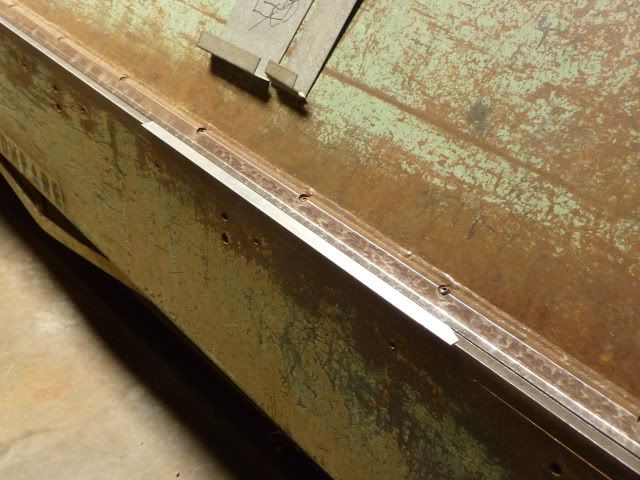 Brake it up 90 degrees, pull it out and flip the sheet over. Slide it into the second line.
Then brake it up as far as it will go, about 135 degrees
Now pull it out, turn it around and push it in the brake. Pull the handle down and this will crush the edge, making the first edge.
You'll want to do both long edges, then head over to the pan brake. This brake has removable pieces so you can adjust the head width to fit in between the edges that you have already folded up. Otherwise the process is the same as the sides.
You also need to brake the hinge end up a single 90 degree bend. Make sure the bend the tabs back, you can see they are in the way in this photo
From here, it was back to the house to put the finishing touches on it. I riveted all four corners. These weren't riveted originally, but I couldn't see why not.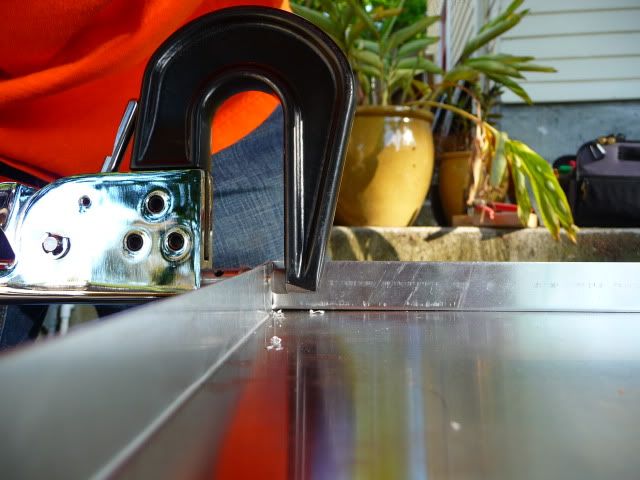 Next it was time to attach the old hinge to the new door. To take the original door out of the frame, bending this tab out will allow you to slide it out of the frame, after opening it 90 degrees.
Then drill the rivets out that hold the hinge half to the old door. Drop the new door into the frame and slide the hinge back into place. You can mark where the hinge goes on the new door, take it apart and rivet the hinge onto the door.
Now just slide the hinge and door back into the frame and wa-lah'
Finish product with new locks
Can you guess what is next?